If you are on the go and want some psychic advise ASAP, then we highly recommend the Kasamba psychic network! We like that Kasamba provides "real-time availability status" of their advisors to ensure that only those who are available right now are shown on their website. They also offer 3 FREE minutes every time you choose a new advisor at Kasamba to ensure that you find your perfect psychic match with a satisfaction guarantee! In other words, you can try out Kasamba risk free which is fantastic!
Kasamba.com is an excellent psychic network online for anyone with a busy lifestyle. If you are using your smart phone there is an app available to download and you're ready to go! Please read our full Kasamba review below to find out more!
Kasamaba.com Review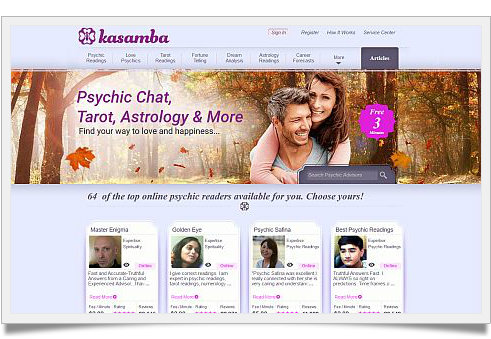 >> Get 3 FREE minutes with any psychic!! <<
About Kasamba
Kasamba, Inc., was established in 1999 by physicist Inon Axel and physician Arthur Fuhrer. They created a community of chat-based paid experts. With more than a million visitors per month, the private-held company quickly became a leading online psychic network to give expert advice via real-time chat. In 2007, the Israel-based company Kasamba Inc. was acquired by Live Person, Inc. – a provider of online conversion solutions. The goal of this acquisition was to expand its global presence and create a greater platform to deliver trusted advisors to online consumers through a direct link. Kasamba's website was under a few years directed to LivePerson.com, until management decided to run the operations through the new designed Kasamba website.
The Kasamba network has always been known for giving the best chat based psychic readings. In fact, if you read Kasamba psychic reviews throughout the internet, you will see that the majority agrees that Kasamba is the number one psychic chat network in the world! Their chat service is top rated. Your chat sessions at www.Kasamba.com are 100% anonymous and private and will never be shared with any other party. Your text displays as it is entered, and you can save your psychic reading chats and read the transcripts later, any time you want.
Kasamba is still the leading online chat psychic network, and is today also offering top rated psychic readings via phone. You can call for an experienced advisor in any divination practice for psychic guidance – and there are many to choose from whenever you want.
Kasamba Psychic Services
We like that the Kasamba psychic network offers a wide range of divination practices such as:
Psychic Readings – Fortune Telling, Love Psychics, Career Forecasts
Aura Readings

Crystal Readings

Rune Casting

Psychic Mediums

Kabbalah

Pet Psychics

Tarot Readings – Angel Card Readings, Cartomancy

Dream Analysis

Astrology Readings – Chinese astrology, Vedic Astrology
The Kasamba psychic network is mainly aimed for English speakers, but a few psychics may offer psychic readings in Spanish, German and French.
About the Psychics at Kasamba.com
A thumbs up is their large selection of psychics. Kasamba.com claim they have well over 30,000 registered advisors. This means you will be able to find a psychic any time of the day. During low peak hours, we noticed well over 450 live psychic readers available via chat or phone. There are many top rated psychics on the Kasamba website, so it does not come as a surprise that there are tons of readings with a 5-star rating.
The screening process to join the Kasamba team as an advisor is actually non-existent. To become an advisor you just need to pay a fee of $50 USD, and then you can set up your profile. Kasamba believes that their application fee together with the future customer ratings will eventually settle whether a psychic is good or not. So by not having a screening process they leave basically all the quality control work to the customers. This should however not scare you away if you are looking for a psychic reading because there are many competent advisors.
Note: For the time being, Kasamba don't accept any new advisors.
How to find the perfect psychic at Kasamba
When you visit the Kasamba website, you will only be shown psychics that are available right now. This "real-time availability display" allows you to connect with someone immediately, without having to waste your time searching through advisors that are not available. Kasamba's vision is to provide instant communication with expert advisors – wherever you are, whenever you want!
The price for a psychic reading varies a lot. The Kasamba psychics charge anything from $1.69-$19.99! So how do you know which one to choose? Below is a short guide to help you find the perfect advisor for you.
If you go to www.kasamba.com and look below their logo, you will be introduced to several "Divination Practices" to pick from. In the middle of the page to the right, is a "Search Box" that you can use to search for psychic advisors. You can search from here or you could just pick a divination practice from the top menu under the logo. The latter will load a new page with advisors for that specific category. Below the search box is another great option that says "Sort By" where you can sort by: "highest rank", "new psychic", "highest price", "lowest price", "less than $4/minute", "less than $7/minute", and "hide busy psychics". This is a good search tool that will save you lots of time!
If you look at the middle of their website, you will find two tabs: "Chat" or "Phone" (a bit hard to see at first). Click on the tab (type of reading) that you prefer. We would very much like to see that Kasamba would also offer "Live Webcam Reading" – but as for today they are only giving chat, phone readings, and email readings.
If you then click on an advisor, you will find more information about their specialties, language, service, experience, and qualifications etc. If you are interested in "email readings" then take a look at the left side below "Fee/Minute" where you will find the fee for email readings, which oftentimes can be negotiated. Below are the "Reviews" and "Ratings".
In order to find top rated psychics at Kasamba, the best thing you can do is to first "sort by highest rank", choose if you want "chat" or "phone" readings, and then go to their profile page to read their "ratings and reviews" from previous customers, and see if they have any credentials. Another tip is to see how long they have been a Kasamba member to get a better idea.
No matter what, to find a good reliable psychic, make sure you read the profile pages and read through the customer reviews. It is the best you can do, and make sure to use any offers available.
Unique Chat Option at Kasamba
If you are shy, don't want to talk, don't want to be seen, or just want to keep a written record of what your advisor says – then the chat option is for you. Another benefit with the psychic chat option is that you can get great advice whenever and wherever you are. For example, the chat option can be perfect if you need some quick business advice on your lunch break, or if you are sitting on a buss/train and can't talk on the phone, or when your on vacation and need to ask some quick love questions. If you want to use their chat option, you just use Kasamba's web based online chat feature which works really great, or download an app to your smartphone. What makes the chat option unique is that the text appears as you type making it quicker to receive guidance.
Ways to contact the psychics?
The majority of the Kasamba psychics are available via chat, but you will also find psychic that do readings over the phone or e-mail. If you send an advsior a message, they tend to reply within 24 hours.
Chat readings

Phone readings ( only for customers based in USA, Canada, New Zealand, South Africa, United Kingdom)

Email readings
Customer Support
You can find their "Service Center" at the upper right corner of their web site. Here, you will get answers to the most common questions. You can also submit a "ticket" to their customer service to get personal help 24/7. Unfortunately, Kasamba doesn't offer any phone support which is a minus.
Website Features
It's very easy to navigate throughout their website but the overall layout – especially on "Featured Articles" – seems a bit outdated and could use some refreshing. When it comes to the filter options, the "Sort By" option as well as the "Chat"/"Phone" tabs are not accessible unless you choose a divination practice which is unfortunate.
Kasamba.com has many interesting articles on subjects such as tarot, numerology, love and relationships, soul mate, finding happiness etc. You can also read about previous psychic spotlights and client testimonials. Also, for all you horoscope enthusiast we are happy to inform that Kasamba offers free weekly horoscopes!
To join Kasamba you are able to connect and sign-up using your facebook account, or just sign-up using an email. There is also an app available for mobile users, which is a big plus.
Customer Offers at Kasamba
New customers are always entitled great offers. Most of the times they offer 3 FREE minutes with any advisor. On top of that you are often given an additional discount of 15% to 50% of the regular per minute rate.
Returning customers do also receive offers. You may be given Kasamba coupons that give $10 off your next reading or 25% discount on your next reading. You should be able to expect an offer like this once a month. Another great offer for returning customers is the "3 free minutes badge", which is symbolized by an orange flower in the advisor's profile. You will find this symbol on new advisor, which gives you the opportunity to claim three free minutes of psychic reading.
Kasamba has no pre-payment policy which means that you pay after your session. Payments are accepted with credit/debit card or by using PayPal.
Kasamba Complaints
Is Kasamba legit or do people think Kasamba is a scam? Well, the psychic reading business is by many not taken very seriuosly. However, Kasamba.com is part of LivePerson, which is a publicly held company and a trading stock on NASDAQ stock exchange. So it is very much a legit company.
When it comes to complaints, they do exist and can be read on different complaint sites, but if you check the customer feedback for each advisor on Kasambas's website, you will see the feedback speaks for itself. If an advisor gets a few bad reviews, they will really not last on the platform.
To avoid complaints do some reading on the privacy policy page and the terms of use page. Take some time to read the FAQ section to understand how the platform works. Remember that there is a webbased version and an app version that works a little bit differently.
Summary Kasamba Review
We love that Kasamba has a lot of divination practices and that they have several hundreds of advisors 24/7 to pick from. A big plus is also that Kasamba only shows psychics that are available in real-time which saves a lot of valuable time when searching for a psychic. We also find it very generous that Kasamba gives 3 free minutes with each new psychic, and that they have a money back guarantee policy to assure customer satisfaction. We do think however that it is a downer that Kasamba doesn't have any screening process for their advisors, but they do keep an overall high quality with many 5-star rated readings!
According to most Kasamba reviews, this psychic network has the best chat service because of its unique chat platform. They also offer top rated phone readings as well as email readings, and we are hoping that they will soon implement webcam readings as well.
Kasamba's navigation system and layout may need some improvement though. For example, their sorting options and chat/phone tabs are only visible after clicking on a divination practice. However, overall it's very easy to navigate throughout the website and you will definitely find whatever you are searching for. We think it is great that you can sort by "highest rank","lowest price", and "hide busy advisors". Our Kasamba review gives 5 star to their wide range of services. Kasamba simply stands out when it comes to options offered – their wide range of psychic readings, and of course their great selection of gifted and top rated psychics!
Pros
Wide range of Divination Practices

Phone readings, Chat readings, Email readings

Real-time availability of psychics displayed on their website

Great sorting options – highest rank, lowest price, hide busy advisors etc.

3 free chat minutes with each new advisor

Tons of readings have been 5-star rated

Money back guarantee

Kasamba weekly horoscope

Paypal as payment option
Cons
No screening process

No phone support

No live web-cam readings