Psychic fairs are scheduled each calendar year throughout different cities. A wide range of gifted psychics, mediums, clairvoyants, and healers come together for these psychic events. Below is a list of where you can find psychic expos and mind, body & spirit fairs that you don't want to miss. Make a note in your calendar for the next psychic fair that is coming to your town!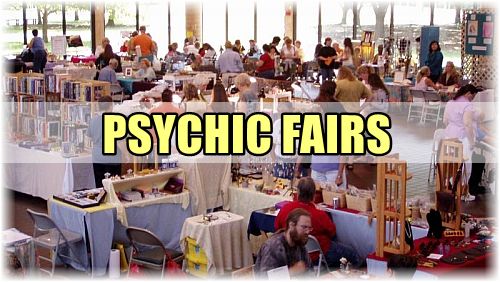 List of Psychic Fairs by Country
Click on the country of interest to find a psychic fair near you.
United States
United Kingdom
New Zealand
Canada
Australia
What is a psychic fair?
A psychic fair is a fun event where psychics, healers, and people of all divination practices are gathered to demonstrate their new products and services, and to give visitors a spiritual experience.
As an attendant at a psychic expo, you will be able to try out a myriad of divination practices such as tarot reading, palm reading, clairvoyant reading, rune stone reading, aura reading, energy healing etc. Many psychic fairs will also offer free workshops, aura photographic portraits, numerology compatibility charts, and astrology reports. For example, at a typical "body mind psychic expo" you will find vendor booths with healing crystals, Native American crafts, healing tools, essential oils, crystal singing bowls, and gemstone jewelry. Foods and refreshments are also available at most psychic fairs.
A holistic fair or any type of mind & body spirit fair, are more focused on health and wellness. Here, you will be able to meet with energy practitioners, holistic health practitioners, and intuitive readers. A typical holistic fair will give special presentations on healthy cooking, nutritional consultations, healing bodywork sessions, and aura readings. These mind, body and spirit fairs will have a great supply of health-based products such as natural and organic foods, raw/vegan/vegetarian locally sourced foods, organic cotton clothing for Yoga, essential oils for healing, incense for relaxation, metaphysical supplies, spiritual cleansing products to clear the aura etc. Furthermore, at most psychic holistic fairs, you will also be able to get psychic consultations from gifted clairvoyants and mediums.
How much does it cost to attend a psychic fair?
There are many psychic fairs that will not charge you an entry free, however it is not uncommon to charge fees at around $10. The great thing about attending a psychic fair is that you will be able to attend workshops and listen to inspiring speakers for free that will teach you about meditation, healing, aura, past lives, self empowerment etc. You will also have a great selection of healing tools, practitioners, and psychics to choose from.
If you on the other hand want to attend an international psychic convention, you will have to pay a higher entrance fee since these kinds of psychic events often have famous keynote speakers such as John Edward, James Van Praagh, Shirley MacLaine, Doreen Virtue etc.
What does it cost to have your own booth at a psychic expo?
If you are interested in getting more experience and/or building a client list, then it could be a terrific idea to attend a psychic fair and have your own booth where people can come to you for consultation and guidance. Many psychic expos will charge less than $100 and some won't even charge a penny to allow you to perform your services – so it's worth looking around to see if there is a psychic fair that could be of interest. As a rule of thumb, the higher the attendance rate…the higher the price for the booth.
Where do I find psychic fairs?
On this page we have a list of psychic fairs in several countries. Look up your country and find any psychic event in that area. Visit the links and then you will be able to obtain more information on the exact location, date, time, entrance fee, activities etc.
How much does it cost to get a psychic reading at a psychic fair?
Well, practitioners and intuitive readers offer their services for around $20 to $30 for a 20 minute session at most psychic events. This is by the way, a great way to try out new psychics and healers in your local area. You may even bump in to a psychic that you have had contact with on one of the psychic networks online. Many of the psychics working on the psychic networks do actually attend psychic fairs.