Let us show you a few psychic networks that offer pet psychic readings. Some of the pet psychics can not only communicate with animals, but also find lost pets and communicate with deceased pets. For those who are unsure what a pet psychic does, we have also put together some useful information further down the page.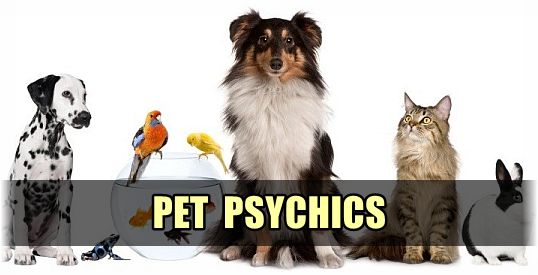 Where to get a Pet Psychic Reading
Here is a list of reliable psychic networks offering pet psychic readings. Check out each network and look through the profile pages for each pet psychic. If you decide for one, make sure you prepare yourself with good questions, and make sure you use the introductory offers that each network provides.
Kasamba is a psychic network offering pet psychic readings. They have many pet psychics available and they can help you connect with your pet in ways you did not know was possible. All the pet psychics charge by the minute, and as a new customer you are entitled to 3 free minutes and 50% off the regular rate.
Psychic Source is another popular network that also provides pet psychics. To find them, you need to navigate to their website, click the "Our Psychics" link on the menu bar, and then use the "Filter by" option. Under the filter section, click on "Specialties", then check mark the "Pet Psychic" box and do a search. You will probably get around 20 results. All new customers are offered 3 free minutes and $1 per minute pet psychic readings.
Hollywood Psychics have a handful of pet psychics waiting to communicate with your pet. Go to their website and click on the "Our Psychic" link at the top part of the website. On the left side of the page you will be able to filter your search. Scroll down to the "Gifts" section, select "Pet Psychic", and do a search. Last time we checked they had over 10 animal communicators available. Hollywood Psychics will offer every new customer 3 free minutes and $1 per minute pet readings. You can both call or chat with the pet psychic of your choice.
Keen is another psychic network with a few pet psychics available. Here you will also need to use the filter options to find any available pet communicator. It is a well established psychic network and they offer new customers 3 free minutes towards their first paid pet psychic reading session.
Psychic Access is a small network of psychics, mainly offering regular psychic reading. If you visit their website and click on the "Our Psychics" link, you will be able to see a filter section on the left side of the page. There is a "Pet Psychic" filter option, but it doesn't seem to be able to filter. Instead we visited a few profile pages, and we did actually find a few pet psychics. This psychic network offers 6 free minutes to first time customers. A pet reading will cost you around $3.99 per minute.
Questions About Pet Psychics?
If you did not decide yet for a pet psychic, you probably have a few questions and concerns of what a pet psychic can do for you. Let us give you some information that may be of help, and hopefully it can clear up certain questions you have regarding pet psychics, pet whisperers, animal communicators, etc.
What are Pet Psychics?
Pet psychics are people who claim and seem to be able to communicate with animals through various means not cognitive to ordinary people. The term psychic refers to a special ability of humans (and some claim with pets too) to perceive information elusive from the normal senses (sight, smell, hearing, taste, and touch/feeling) or an extrasensory perception, or ESP. The term pet psychic can also be associated with people with a special empathic connection with animals who use body language, vague clicks and sounds, and psychology to communicate with animals such as dogs, horses, or birds.
Think of pet psychics as a real-life Ace Ventura or Dr. Dolittle, who in their respective films has seemingly uncanny relationships and unorthodox communication skills with an extensively wide variety of animals. Pet psychics are almost exactly that way, minus the fancy hair, wackiness, and floral pattern shirts of Ace Ventura.
A more recent popular denotation for pet psychics is pet whisperers, because of the act that they 'talk' to animals in such a way that they're the only ones who know what's going on. Animals and animal whisperers seem to have an intimate connection, a close bond that helps the whisperer, and eventually the pet owner, understand what is really behind the animal's recent misbehavior.
Pet psychics are highly trained professionals who with experience have learned to form a bridge of communication with animals.
What can a reputable pet psychic help with?
Top pet psychics can help you with a few things…
You could see a pet psychic for deceased pets. A pet psychic can tell how your pet is doing in the life after death. Some former pet owners get stuck thinking about their deceased pets, and a pet psychic can actually bring closure for you.
Understanding your animal companion needs. An animal communicator can help you in better understanding your pets needs. For example, if a dog is in constant depression, a dog psychic will go to the root of your dog's problem and communicate the cause of the discomfort.
Locate a lost pet. A lost pet psychic will help in pinpoint the location of your pet. It works like lost object readings, where the psychic is given images, sound and smell of the lost object's surroundings.
The pet psychic people
The first animal communication attempts that relate to animal psychics to be documented is said to date back in the early 20th century, when the Association for Research and Enlightenment (A.R.E.) began digging for psychic abilities in humans.
Pet psychics rely on various techniques when communicating with animals. There are pet psychics that claim to connect with animals through their souls, and some also claim to communicate with animals through telepathy. Some pet psychics also claim to communicate with an animal's electromagnetic energy, something like an animal reiki therapy. Reiki is a Japanese Buddhist spiritual practice that uses systematized hand placements to heal or relax a person, or animal. Animal Reiki is a procedure that claims to restore balance and harmony to an animal's physical, mental, emotional, and spiritual being.
Famous pet psychic Janel Eaton describes her procedure when talking with animals. She claims that animals are constantly trying to communicate with people all the time through ways such as body language, facial expressions, and vocalizing. Eaton would try to 'ask' the animal (such as a dog, cat, horse, bird, or rodent) to show her what the animal sees. Once she makes a connection with the animal, they take her on a tour of the environment. Eaton manages to see, smell, hear, and feel what the animal sees, smells, hear, and feels, as well. She asserts that what matters most is the animal's emotions – happiness, love, fear, sadness, loneliness and pain are all expressed by an animal in an "almost overwhelming sense."
Commonly, pet psychics do not require the physical presence of the animal. Pet psychics, just like traditional psychics, rely more on the energy, the aura, that the animal emits. Like Janel Eaton, she only needs a photo of the animal that preferably shows their eyes.
Because of this trait, pet psychics are more popularly consulted to find missing pets. Pet psychics normally need a somewhat 'relic' that can make a clear connection with the animal which in turn can trace the location of your animal, like an astral GPS. With true pet psychics, you no longer have to go out in the streets wearing a bikini to get attention to help you find your missing chihuahua.
Another popular animal psychic communicator is Lydia Hilby, who claims to have over 60,000 clients over her 20 year career being an animal psychic. Among her vast clientele, some even came from various parts of Europe, and some started out as skeptics as well. She combines her knowledge of Animal Science and Animal Psychics to 'diagnose' what your pet could be feeling. Hilby 'asks' the animal what they need to 'talk' about by sending a kind of telepathic imagery, emotional cues, and physical sensations. Hilby also does an animal body reading, from which she can share valuable information you can tell your vet, animal chiropractor, or trainer.
Another famous animal psychic is Sonya Fitzpatrick who is a former model and former host of Animal Planet's The Pet Psychic. She had an uncanny ability to telepathically communicate with animals which she claims she got since she was a child. when she was a child, she could feel the emotions and physical pains of her pet dog and the geese on her parents' farm. She used this said telepathic skills to serve as a passage to communicate with animals in the show The Pet Psychic and share to pet owners the animals' respective ailments and problems.
Some pet psychics also claim to be able to communicate with long-dead animals, which is a very essential ability for those who deeply miss their beloved four-legged member of the family. But like every other kind of psychic, pet psychics don't go amiss with skepticism. Lots of people do not believe in mystical things or psychic abilities. However, would it really hurt to try pet psychics?
"Scientific pet psychics"– pet psychologists
Pet psychologists are those experts who communicate with animals through a mental and emotional approach that can make an animal calm, focused, and comfortable with people around. Pet psychologists or animal whisperers are psychics in a sense that they try to 'break into' an animal's intellectual and emotional well-being in order to achieve harmony and calmness.
A rather legendary example of animal whispering is created by Daniel Sullivan, the original "Horse Whisperer." People who would watch him work often saw him close to the horse as if whispering something to the animal, hence the term animal whisperer.
This unique and calm method of animal whispering is then later harnessed by John Solomon Rarey and developed it into the Rarey technique. The Rarey technique involves tying one of the horse's legs with a strap so it cannot stand on that leg. This can give the horse owner control over the horse and tire him out. The horse owner then would gently lay the horse down onto a comfortable surface. Once on its side, the owner can use his weight to keep the animal from standing up. While the horse would feel vulnerable, the horse owner would show the horse that the animal is in good hands through patting and stroking.This wonderful method of horse whispering was remarkable because it needs no tremendous physical strength, and it was calm, and non-violent.
Arguably, the most popular pet whisperer is Cesar Millan, who stars in the top rated National Geographic feature series Dog Whisperer with Cesar Millan. A dog lover since being a child, he had a natural relationship with dogs, which earned his childhood nickname "El Perrero", which means 'the dog boy'. As his title suggests, Millan is strictly a dog whisperer, who communicates with dogs through a rather unique way.
Millan primarily suggests that a dog owner should treat a dog justly like a dog, and not as a human being. Dogs are dogs anyway. But it does not mean that you shouldn't express love and passion for the dog, no. You can start off by refraining to call your dog's attention by his/her name. As seen on the show, Cesar Millan applies his personal philosophy that dogs require a strong 'pack leadership' from their owners to earn their respect through what he calls a "calm-assertive energy."
Millan's dog training procedure prioritizes three primary needs of dogs in a particular order: exercise, discipline, and affection. Millan emphasizes the importance of exercise like walking as a time for physical labor and growth, but also a moment for bonding between the pet and pet owner. It is a great activity that can assert who is the leader of your pack. Plus, with exercise comes fatigue, which calms the dog whenever they feel aggressive. Exercise leads to discipline, which involves delivering rules through communication (Millan uses a lot of tugging, yanking, and poking dogs and some verbal cues such as hisses and clicks), boundaries, and limitations. Millan suggests that dog owners should only show affection to dogs whenever they are in a "balanced state of mind", not when he's aggressive or extremely excited or ecstatic about something, or confused.
One valuable advice that Cesar Millan gives to new dog owners is that to avoid making eye contact, speak, or touch a new dog. Let the dog come to you in his/her own terms whenever their most comfortable with you.
Some would call Millan's way of dog whispering "tough love", but as seen on TV, it sure works! Though effective, Millan does not suggest everyone to try his method at home as it could be dangerous, especially when whispering to aggressive dogs.
So how do you choose from a pet psychic or a pet whisperer?
Experts would suggest that if you have a missing or deceased pet you want to find or communicate with respectively, you should probably get a certified and reliable pet psychic. A pet whisperer is best called upon when it comes to taking control of the situation between you and your pet.