Is Theresa Caputo fake or real? The charismatic TV star and psychic medium Theresa Caputo is one of the most famous psychics of today. Her TV show "Long Island Medium" has been a huge success ever since it started in 2011. She has fans all over the world claiming that she is the real deal. But could it all be a hoax? There have been many angry voices saying that the famous Long Island medium is a fake. Let's uncover the truth once and for all!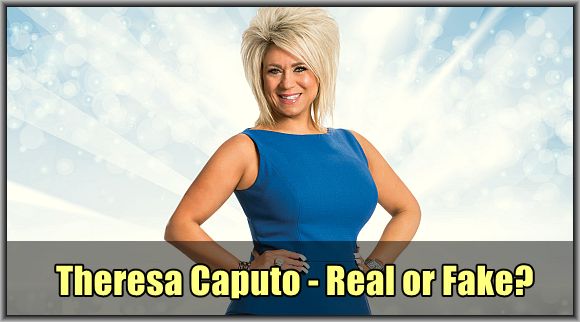 Paranormal TV Shows – An eye opener for the general public!
The curiosity in psychics and occult phenomena has always been great – perhaps for almost as long as mankind has existed. Even if the humans are more logically oriented than ever before, the interest in the supernatural doesn't seem to fade away. The numbers of paranormal themed TV shows have exploded over the last decade proving that the curiosity is still there and is even becoming greater than ever before.
Paranormal themed TV shows have opened up the curtains to the public viewers, allowing them to build an opinion for themselves about psychics and paranormal occurrences. This openness comes with a lot of skepticism as well as new believers in the supernatural. The "Long Island Medium" show, which is a reality series aired on the TV channel TLC, has become quite popular. It first aired in 2011, and have since attracted millions of viewers per episode. Theresa Caputo's rise in fame does certainly attract the press, and a lot of gossip about her work and personal life is circulating on the internet. You can find headlines like: "Is Long Island medium real?", "Is Theresa Caputo a fraud?", "Long Island Medium' Theresa Caputo heading for divorce?", etc. Sometimes harsher statements can be found on social media such as: "Theresa Caputo is a fake!"or "Theresa Caputo exposed as a FAKE medium and a FRAUD!". Some even believe that Theresa Caputo is not channeling the spirits, but rather accessing demonic energy or is secretly practicing witchcraft! You will find many biased stories against Theresa Caputo, especially by investigator Ron Tebo and gossip magazine RadarOnline. However, you will also find people who are convinced that Theresa Caputo is truly gifted. Convincing fans on social media are saying that "Theresa Caputo is the real deal!" So who do you believe?
Multi Million Dollar Industry – Is Theresa Caputo Real?!
The idea of making any kind of money from psychic readings is not approved by many. Some believe that it is a gift from God that should be used to help people without charging them – just as the people of the church do (nuns, monks, priests etc.). However, to be able to perform spiritual work many churches are financed by taxes and donations. So, why isn't that OK when it comes to psychic mediums? Where do you draw the line?
Theresa Caputo's TV show "Long Island Medium" has made her a very rich lady. Does this make Theresa Caputo fake? That's a valid question, especially when there's lots of money involved. Her TV show has been a huge success since the premiere in 2011. The fame has made her among the richest psychic mediums in the industry with an estimated net-worth at anywhere between $1 million and $10 million. It's hard to get the exact number since her income is not only coming from the TV show. The psychic medium Theresa Caputo does also generate income from her books, merchandise sales, and psychic tours. The ticket prices for attending her psychic tours range from $50 to $180. Also, if she has the time, she will do private readings that will probably cost around $200+ per 30 minutes. It all adds up to a lot of money!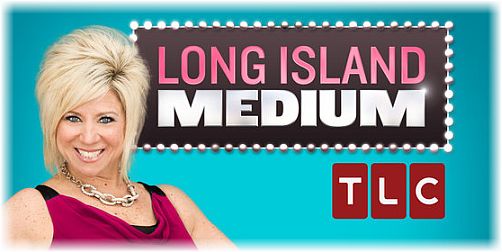 But, is Theresa Caputo fake just because she earns a great deal of money? No, of course not. Many highly regarded spiritual teachers make lots of money, so why should it be any different with psychic mediums? This probably has to do with the fact that throughout history there has been lots of fake psychics doing "cold readings" etc. The psychic profession has received a very bad rap and there's a lot of negativity around this field of work.
Theresa Caputo is one of many psychic mediums that have been accused of doing "cold readings". According to her critics, her "gift" is not "psychic" but rather a gift in the fields of psychology and behavioral manipulations. Many fans on the other hand believe that Theresa Caputo is the real deal. She has almost 6 million likes on her two Facebook pages (Theresa Caputo + Long Island Medium) making her one of the most famous psychics in the world! Even so, the question still remains: Is Theresa Caputo real or fake?
There are lots of people who don't believe in psychic powers and claim that Theresa Caputo is a con artist. Many think the same about famous profiles like Sylvia Brown and John Edwards. However, it's important to recognize that there are many gifted psychic mediums out there that don't deserve all the negative feedback. So how can you tell if the Long Island medium is for real?
Let's see what the arguments are for those saying that Theresa Caputo is real vs fake!
How Is Theresa Caputo Real?
The fans are absolutely certain that Theresa Caputo is real, especially the ones who have joined her fan club. Here are some compelling arguments that can support their conviction.
If you have watched her TV show "Long Island Medium" you must have been blown away by her impressive readings! Could thousands of happy clients who have received readings from Theresa Caputo be wrong? You can find lots of testimonials from previous customers saying that the information they received from Theresa Caputo was about things that she couldn't possibly have known about beforehand. Do you honestly believe that these people would lie for her just to make her look good? Why would they do that? Her clients seem to be honest people who are just seeking answers. Theresa Caputo doesn't claim to be "God" or to know everything. She seems like a nice person with an extra-sensory ability that just wants to help people; offering hope to the grieving.
A good proof to determine that Theresa Caputo is real, is by actually having some form of scientific evidence or endorsement from a respectable individual. The best we can do is to offer you clips from the Dr. Oz show. Yes, Dr. Oz did actually perform a psychic experiment on Theresa Caputo. The results did even amaze Dr. Oz himself, which made him change from a non-believer to a believer of her work. The video with the final results of the experiment is in PART 5, but to see previous clips go here: PART 1, PART 2, PART 3, PART 4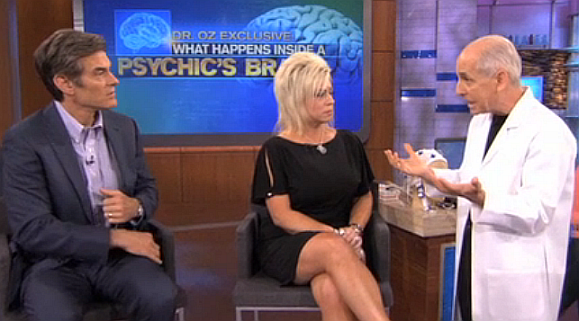 How Is Theresa Caputo Fake?
The critics are 100% certain that Theresa Caputo is not real? So what do the critics say? What arguments do they have that prove that she is a fake medium?
According to critics, it seems like Theresa Caputo's live shows are thoroughly choreographed and staged. In a TV show, one scene can be filmed many times, and the scene can be edited afterwards so that it seems like the psychic is hitting "spot on" with her readings. If the medium is saying things that are way off and inaccurate, it will not be shown in the episode. This has been the case with Theresa Caputo's TV show "Long Island Medium" according to critics. They also believe that Theresa Caputo needs her crew to back her up. For example, they say that the star's assistants retrieve information about her clients beforehand and that Theresa Caputo is most likely obtaining this information before the session. Also, before Caputo's arrival to a reading, the production team always makes sure to take down photos of relatives that have passed away. The critics say that the production team probably tells Caputo about the photos when she arrives at the scene. Some people think that Theresa Caputo uses private investigators and prior knowledge though social media and Google. The medium is also accused of using"cold reading techniques" such as throwing out random questions and talking fast. It's been said that she spends her entire time with people on the front row or first floor in an arena filled with a couple of thousands of fans. Even if these points are valid, there are no real proof that this has actually happened.
So, are there other reasons why people believe that Theresa Caputo is fake? Well, she didn't accept James Randi's $1 million dollar paranormal challenge, which some people thought was a bit suspicious. However, Theresa Caputo responded: "I respect and understand skeptics, and always have, but I am also not here to prove anything to anyone".
InsideEdition.com did also perform an investigation on Theresa, where they concluded that her live readings are actually less accurate than her readings on the TV show.
If you are familiar with the American talk show "Anderson Live", there was one episode where Theresa Caputo was invited to do a live reading. However, the host Anderson Cooper, wasn't impressed of her results.
The Verdict – Is the Medium Theresa Caputo Fake or Real?
To answer this question, let's see what a real vs a fake medium does.
A real medium receives detailed information from the spirits, whereas a fake medium asks leading questions and gives general information that can be true for anyone. Let's see from the video below how Theresa Caputo works:
What do you think after watching the video? Is Theresa Caputo a real medium? From the video clip above, we saw no signs or proof that indicates that Theresa Caputo is a fake medium. On the contrary, she was very accurate in her detailed reading and stayed personally detached throughout the reading. For us, this shows that Theresa Caputo is for real. If you also watched the videos with Dr. Oz, you could see that the experiment shows that there is something happening in Caputo's brain when she is communicating with the other side, which is quite unusual.
Up to this day, there has not been any hard evidence that suggests that the Long Island Medium is a fake. We therefore choose to believe until proven otherwise. Also, seeing is believing – which means that to know for sure, you have to experience and decide for yourself if Theresa Caputo is the real deal or not. Watch videos of Theresa Caputo and read her books. We love the ironic title of her latest book that says it all: "You Can't Make This Stuff Up".