Reading reviews on Psychic Source is the best thing you can do before calling an advisor. This Psychic Source review covers the most important things to look for in a psychic network, which would include information such as company info, range of psychic services offered, the competence of the advisors, how to find the right psychic, contact options, website features, and complaints.
The experience of a psychic reading with this network will of course depend on the advisor and the expectation of the client. Many "PsychicSource.com Reviews" are written from a more subjective point of view. This Psychic Source review however, has taken a more objective approach to give you a better understanding of the company and their services.
Psychic Source Review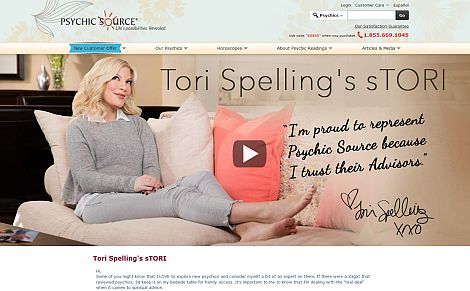 >> Talk to any psychic for $1 per minute + 3 minutes FREE <<
About Psychic Source
According to Psychic Source's website, they state that Psychic Source was founded in 1989. Gary Baron was actually the founder of things. In 1988 he started a company called VSE Inc., who later developed the idea of Psychic Source. In the early years Psychic Source was managed under VSE Inc., but a parent company was created to take over the business. Expert Link, Inc. was created and the CEO for this company is Gary Baron. Expert Link Inc. filed trademarks in 1995 and 2005 for Psychic Source, of which the last one is still active.
The domain name itself, PsychicSource.com, was first created in November of 1996, according to the database of the non-profit organization ICAAN. The earliest screen-captures to be found dates back to December 1998.
This psychic network has now been around for almost three decades! They have gone through the early days of the internet and adapted to the modern use of the internet as of today. The Psychic Source network consists of well over 250 authentic psychics. They are available for readings and have a "Money Back Guarantee" offer, which allows a total refund if a client is unhappy. Backing up with a no risk guarantee shows a real confidence in their service, as well as commitment in creating an experience – based upon customer satisfaction.
Tori Spelling – Spokesperson for Psychic Source
In March 2016, Tori Spelling was announced as the new spokesperson for Psychic Source. The famous actress and reality star has used Psychic Source for personal advice on many occasions. Ms. Spelling speaks very highly about their services and recommends it to anyone who needs guidance and support. She has gained both emotional and mental support as well as spiritual benefits by consulting professional psychic advisors. Being a producer and entrepreneur, Ms. Spelling says that reaching out to serious psychics has helped her accomplishing the things she wants. Consulting Psychic Source advisors has been a real "confidence booster" and has helped her to focus her energy towards her goals. Not only has she consulted psychics for career issues, but she has also discussed love and family matters with the advisors at Psychic Source. Furthermore, Ms. Spelling has contacted their psychic mediums to connect with her loved ones who have passed away.
As a public figure, Ms. Spelling is able to share her personal experiences and passion for psychic readings with her loving fans all over the world.
GET A LIVE READING – CALL TOLL FREE 1.855.416.0677 (use promo code: 33975)
Psychic Services
Psychic Source gets a thumbs up when it comes to the psychic services they offer. You will find a wide range of divination practices including:
Tarot Card Readings

Readings with Clairvoyants, Clairaudients, Clairsentients etc.

Psychic Medium Seances

Numerology Readings

Astrology & Horoscope Readings

Pet Psychics Experts

Love Psychics Experts

Reiki Healing Sessions
PsychicSource.com has experts in all of the major life areas (career, issues at workplace, new job, relationships, new love, breakups, loss etc.) and you can choose advisors that are using tools (tarot, angel cards etc.) or no tools at all (medium, empath/intuitive, clairaudient etc.). Many previous customers are happy with their services and describe them as "authentic" and as "people who are not after your money but honestly want to help you". Let's learn more about the psychic advisors that are working at Psychic Source.
About the Psychics
Psychic Source is a community of authentic psychics and mediums. Their motto is to give the highest levels of professionalism and ethics. To accomplish this, Psychic Source has made sure that all of their advisors are carefully screened before they are hired. According to their application process, a regular job interview is the first step to pass. Then if the applicant passes, a 10-15 minute reading is to be given to one of the team members at Psychic Source. A second reading is in most cases also needed from the applicant.
If the screening process does not set your mind at rest, what other measures does Psychic Source take to ensure that their psychics give accurate and real psychic readings?
You always have the Psychic Source review page for individual psychics, which are ratings and reviews from customers for each psychic you may want to consult with. This gives you a great chance to see how previous clients think about the advisors. You will learn so much about the psychics – even before picking up the phone! This will save you lots of time and money. Psychic Source is completely transparent in the sharing of customer feedback which really shows their commitment in giving accurate readings.
Also, to assure high quality Psychic Source readings, they have incorporated a straight forward "Money Back Guarantee" policy. So, if you are not happy with your last psychic reading you will get your money back! The only thing to keep in mind is that your refund must be requested within one business day of your reading. This "Money Back Guarantee" policy will give you a peace of mind since it shows their sincerity about giving authentic psychic readings.
Furthermore, some of the Psychic Source psychics offer free email readings to try their service. This can be a good idea if you are unsure about the psychic. If you don't receive your promised Psychic Source free email reading within 4 business days, then check your "My Account" page, your personal email's spam/junk/deleted items folder, or contact their customer support care.
How to find the best psychics on Psychic Source
It's very easy to select the best psychic on Psychic Source, due to their extensive filtering options. You can filter by specialties, subjects/expertises, tools, and reading styles:
If you search by "Specialties", you will find: psychic mediums, clairaudients, clairsentients, clairvoyants, intuitive/empaths, love psychics, career psychics, and pet psychics.
Filtering by "Subjects & Expertises" will give you many options such as love/relationships/family (breakups, cheating, LGBT, social media influence, sibling/parental issues etc.), career/finances (career change, harassment, office romance, new job etc.), life/destiny/meaning (law of attraction, reiki healing, life coaching, unlocking psychic abilities etc.), loss/grieving (coping with death, loss of a pet etc.)
Searching by "Tools" will give you: angel cards, astrology, cartomancy, dream interpretation, lost object, numerology, past life interpretation, spirit guides, and tarot. You can also choose "No Tools".
A cool alternative that allows you to find the perfect psychic, is their "Reading Style" option. Pick the one you prefer: compassionate, direct, expressive, thoughtful, or wise.
You have all the options you can possible need, and if you still can't decide which advisor to connect with, then simply choose "Staff Picks". It can't get any easier than that, right?
Another great feature that can save you lots of time, is to sort by "Available Psychics" to find an advisor instantly. If you are looking for the best psychics on Psychic Source, sort by "Star Rating". If you are on a limited budget then sort by "Price- (low to high)". Other options are "Price (high to low)", "Busy Psychics", "Alphabetical", and "New".
The detailed "Profile Pages" of each of their psychics, are very useful when choosing an advisor. You will learn about their area of expertise, and when the advisor is available. A weekly schedule is placed on the right side of the profile page – showing when the advisor is available for phone readings and chat readings.
A tip is to ask for a free email reading. Psychic Source sometimes give free email readings to new customers to try their service. However, it all depends on the advisor so you have to contact them personally and see if they are willing to give you some free advice or not.
>> LIVE PSYCHIC READING – GET 30 MINUES FOR ONLY $30! <<
Contacting the Psychics
How do you contact the psychics on Psychic Source? Well, you have the option to get your psychic readings either by phone or by online chat. Email readings are mainly aimed for those who never made a purchase through Psychic Source.
If you feel nervous by talking on the phone, then opt for the "chat now" instant message feature instead. This option allows you to read back through the conversation at a later time when you feel more relaxed.
Live psychic readings are available 24/7. Psychic Source also has a customer care specialist team available 24/7 to assist you in any way. They are all trained to give you the highest service possible.

Phone Readings 24/7

Online Chat Readings 24/7

Customer Support Care 24/7
Website Features
The site is modern with an upgrade to a responsive mobile design. The upgrade was done in December of 2015. Overall it has a clean design and it seems to be very user friendly. The website has also the option to be translated in to Spanish by just clicking a button.
PsychicSource.com offers daily and weekly Psychic Source horoscopes that you will find on their website as an extra feature for any horoscope enthusiast. The website also covers lots of interesting articles and media on topics such as chakra healing, EFT, celebrities who use psychics, crystal healing, archangels, relationship advice, love compatibility calculator, and much more! Podcasts and newsletters are also available.
You can also easily click through to Psychic Source's different social media accounts such as Facebook and Instagram.
Another great feature is their integration with Yiftee to easily provide gift cards – which means that you can give away a psychic reading to your loved ones. This is a fantastic last-minute gift since it's instantaneous and at the same time personalized.
Customer Offers
A helpful Psychic Source review does not only consider the quality of a psychic reading, but also price and promotions.
For new customers, you can oftentimes grab the "New Customer Offer", which entitles you to readings at only 1 dollar per minute, plus 3 minutes for free! This is considered a very low price for a psychic reading! If you are not happy after your first reading you can always claim the"Money Back Guarantee", which means that you will get your money back! To claim the new customer offer you can only choose from three packages: $10 for 10 minutes, $20 for 20 minutes, or $30 for 30 minutes.
For returning customers you get occasional offers like 25% off on new advisors. Psychic Source does also have "bonus dollar offers", which means that if you add for example $50 to your account towards a reading, you will get additional $10 as bonus to use for.
For anyone who is interested in giving another person a special Psychic Source offer, you can now do so. As mentioned earlier, you can actually give someone a gift card. It is very simple – just choose the amount that you want to give away ($10, $20, or $30), type in the name of the recipient, email, and/or phone number. Include a personalized message and pay for your order. You also have the option to send your Psychic Source "Yiftee Gift Card" to a Facebook friend or twitter account. It makes a great and unusual gift for friends and family members.
Psychic Source Promo Codes & Coupon Codes
If you are looking for Psychic Source coupons or have found a website with a Psychic Source promo code, you should know that many of these sites are just links with fake promo codes. However, there are a few out there from time to time, but like any other promo code…they are only valid up to a certain date.
A valid promo code for Psychic Source according to their website, has 4 or 5 digits or letters and is used to apply exclusive offers or other special rates to a purchase. However, we have found real promo codes offered exclusively through PsychicSource.com that have 6 digits. And to redeem most of these promo codes, you have to be a member with a valid user account.
Psychic Source Complaints
Is Psychic Source legit, or is it scam full of complaints? Surely there must have been clients that were not pleased with their services, right?
All established businesses get complaints at some point or another, and Psychic Source is no exception. Complaints are very important for feedback and it gives the companies a chance to improve their services. This is how Psychic Source keeps improving and growing. If you browse on the internet, you will find complaints on Psychic Source where people use words like "Fake Readers" and "Psychic Source Scam". However, the complaints are few comparing to the positive customer feedback found on the advisors' individual pages on Psychic Source.
To avoid misunderstandings, many problems can also be avoided by simply reading their "Disclaimer & Terms" page and the FAQs page.
Don't forget that Psychic Source has received lots of praise throughout the years, which explains why they have been in business for such a long time.
Summary – Psychic Source Review
The advisors at Psychic Source are known as being "gifted", "trustworthy", and "authentic". This probably has to do with the fact that all of their advisors have gone through a rigorous screening process – and that they are constantly improving themselves thanks to customer reviews and ratings. Their "Money Back Guarantee" policy is another proof of their sincerity in keeping a high level of professionalism and ethics. This shows a great commitment in avoiding scams and fake readings – which gives them a big plus in our book!
We also love that Psychic Source has a generous welcome offer for anyone who wants to try out their services. All new customers will get a reading at only $1 per minute + 3 minutes for FREE when signing up for a package. An additional plus is that Psychic Source offers promo-codes and coupons to members – a nice way of showing appreciation for their members' loyalty.
Their website layout and features will also get a thumbs up! Psychic Source offers a wide range of filtering and sorting options. This will save you lots of time and money searching for the perfect psychic. We find it very helpful that you can sort by price (low to high) and star rating – and filter by specialties, tools and subjects. Not only does Psychic Source give accurate and affordable readings, they also give free daily and weekly horoscope readings. Plus, they have lots of interesting articles and media that you don't want to miss!
Pros
Rigorously Screened Psychics

Phone Readings + Live Chat Readings Available 24/7

Wide Range of Psychic Services

Helpful Search Filters & Sorting Options

Detailed Profile Pages + Customer's Review & Ratings

Free Horoscopes + Interesting Articles

Personalized Last Minute Yiftee Gift Card

Great Offer for New Customers – $1/min + 3 min free

100% Satisfaction Guarantee

Great Offers for Existing Customers: Promo Codes & Coupons
Cons
Fewer Live Psychics Than Some Competitors