To provide you with a thorough Keen psychics review, there are a few things we have included to give you a solid understanding of Keen. The information will provide you with  a great overview about Keen.com, but also help you in selecting the best psychic reader from their website.
Keen.com Psychics Review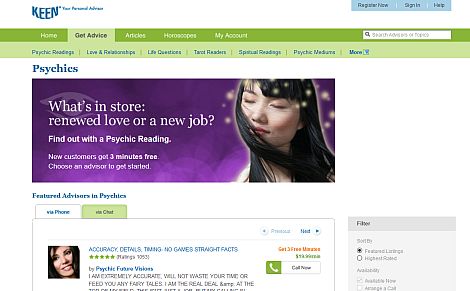 >> Get a 3 minutes FREE Psychic Reading <<
About
Since its launch in 1999, Keen has made a name for itself as a trusted, reliable source for personal advice. Since its initial implementation, millions of successful transactions have occurred. Keen is there for those who need personal advice, which include psychic reading capabilities and a range of other services. It is a safe and secure site with 100% guarantee satisfaction if your are not satisfied (terms apply).
Keen.com is currently owned by Ingenio LLC, which is company based in California. This company was previously acquired by AT&T/Yellowpages in 2007, and in 2013 Ingenio LLC emerged as an independent company.
Psychic Services
What type of psychic services does Keen psychics provide?
Keen.com psychics do not only provide regular psychic reading sessions. Some of them have multiple talents and can do more than just a regular reading. You also have those who just specialize in different fields like astrology, numerology, tarot, and a vast range of other specialties. This means that while you can get a psychic reading by psychics at Keen.com, you also have the possibility to explore other interesting fields. You will find Keen advisors for any field you can think of that will aid you in your path through life.
The Keen website gets a thumb up for providing many different practices. To mention a few:

Psychic Readings

Angelic Readings

Dream Analysis

Psychic Readings for pets

Tarot Reading

Spiritual Guiding

Chakra Cleansing

Feng Shui
About the Psychics
Keen.com provides a lengthy database of more than 800 advisors, but it is hard to tell exactly how many of those are specialized in psychic readings as it is not listed on the site. The Keen psychics have their own personal profiles that you can read to get a better understanding of what they do. You will be able to read about the skills and expertise they each provide. You will not only find native English speaking psychics, but there also a few advisors from other countries that are multilingual.
Keen have "employed" many throughout the years, and the process to become an advisor through Keen is not as thorough as some other providers. If you are seeking to give advice as a psychic reader it is quite easy to set up an account. You have the option to set your own fees and schedule. That being said, how do you find a good psychic on Keen?
How to find good psychics on Keen
There are different ways to determine which psychic is the right one you. This all comes down to what you are looking for as an individual. The right psychic may be someone who is inexpensive and who has a five star rating and good reviews for their performed psychic readings. So here are a few recommended steps to provide you with what you need.
Search the Keen.com website
What you need to do is obviously to start searching for what interests you. If you want a psychic reader, then go to the search box on the site and search the term "psychic reader". Alternatively, there are also links and tabs on the site addressing different topics.
Filter Options – You can sort by "Featured Psychics" and "Top Rated Psychics". You can also click on "Show Filter" where you have more options: "Chat", "Call", "Available Now", "Arrange Call", "Only Show Advisors with Offers". You can also filter by "Price" from $1.50 to $10, and "Rating" from 1 star to 5 stars.  We give thumbs up to their extensive filter options!
Search by advisors – You can choose "Psychic Readings", "Love & Relationships", "Love Questions", "Tarot Readers", "Spiritual Readings", and "Other Questions" where you will find "Life Questions" and "Psychic Mediums".
Using the search box – If you already know what you want, then use the search. Just type the word of your choice and hit enter. You will be served with a list of potential advisors.
Research the Keen psychics
Researching is extremely important to make sure that you are getting the most bang for your buck. Now that you have narrowed down your search you will want to research so that you can filter out the best Keen psychics. The easiest way is to look through the profiles.
The profile – From the search page you will have a list of psychics. If you click on one of them, it will serve you with their profile page. What you want to look for is their photo, skills, the language they speak, and anything they have to say about themselves. You will want to check their minute fees and the type of communication they prefer. From this info you need to "feel out" if the psychic is right for you.
Customer feedback – This part is one of the most important parts of your research. There is a Feedback tab on each profile that you have to go through. These Keen psychic reviews are great since you can read comments and see the rating for each person they have provided their service to. Even Keen psychics themselves look through their own feedback pages to see how well they are doing for others.
Search the web – After you have read through the profile reviews, you can look at the psychics' user name. Some psychic readers use nicknames, but you will also find those using their real names. When you search through a search engine, type in the user name and add the word "psychic" at the end. If the user name is more than one word, put in quotes when you search. You will amazed about the good info you can find.
How do you contact the psychics?
There are multiple ways to contact psychics on Keen.com. The psychics can be contacted either by pressing the "call now" or the "chat now" button. You can also request an appointment by filling out a form with time, date, and the amount of time you expect to use. Alternatively, there is also the option to send an email. To do any of these options, you must be a registered user. You will be able to find top Keen psychics around the clock since they work from different parts of the world.
Website Features
On the home page, the web user will of course have the availability to choose from different psychic readers. Then there is the choice of reading articles. They have a section devoted for this, which is divided into categories with several interesting articles. There is also a section devoted for horoscopes for those interested in reading astrological signs.
The website is also mobile friendly and they provide an app through iTunes store. With the app you can get instant horoscope updates to your phone, but also be able to talk to your favorite Keen psychic when you are on the go.
New Customer Offer
Keen has a special offer for new customers. Your first 3 minutes are free – no matter which psychic reader you choose. To claim this offer, you just need to sign up (for free). You will have 90 days to use your free 3 minutes. This offer is only available once to each new member.
Complaints
While there have not been too many complaints directed directly at the company Keen.com itself, there have been some reported consumer complaints aimed at individual psychics, some of the customer support personnel, and to certain refund issues. Keen as a company itself is not fake or a scam. It is a legit company doing business under laws it needs to comply with. Many times, just by reading the privacy policy or the user agreement page, lots of things could be cleared up. When it comes to accusing psychics of being inaccurate, that happens as well with others providing psychic services. That is why it is important to do your research by reading Keen.com reviews. To avoid complaints, don't forget to research for good Keen psychics by researching the profile pages thoroughly. As for refunds, they do have a 100% satisfaction guarantee up to a certain amount.
Summary
We can tell that Keen is a legit company with a long history of doing business. They provide an ample number of psychics to turn to for psychic advice, and they also have advisors that are experts in other fields. You are certainly able to find good Keen psychics, if you do some research. What put things off a bit might be the screening process as anyone can basically sign up to be an advisor. However, the customer reviews will eventually help in filtering out the good ones. They also tend to have offers that will give you the first few minutes for free.
While you might bump into some Keen.com reviews giving negative feedback, we think that Keen seems to be a well-established site providing good psychic reading to its clients. With free minutes at your disposal, psychic readings by psychics at Keen.com may be worth a try.
Pros
Detailed psychic profiles

Great filter options

Customer ratings and feedback provided

Flexible contact methods

Phone and live chat readings available

Free minutes for new users

Interesting articles available

A wide range of psychics to select from
Cons
Connection fees for phone usage

No screening process of psychics