This Oranum review will help you decide if it's a psychic network that you can trust. With the information you are provided you can draw your own conclusions whether you think the network is is a legit company or not.
Oranum Review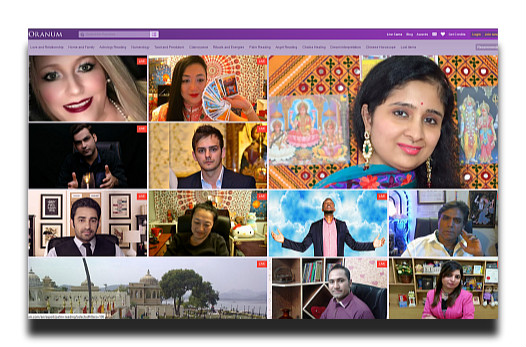 >>  CLICK TO GET FREE CREDITS FROM ORANUM <<
About Oranum
Oranum was first launched in 2010 with the owning company being based in Portugal. Today, the entity that owns Oranum.com is based in Luxembourg. A holding company owns the business and goes by the name Docler Holding. However, you will see a "statement of ownership" on Oranum's website indicating that Duodecad IT Services are the owners. That very same company is actually also own by Docler Holding.
Oranum.com is today a well-known psychic network with great presence both in Europe and the U.S.
Psychic Services
The psychic services Oranum provides will satisfy your needs. They have all the basic divination practices one would be looking for. Just to name a few:
Clairvoyance
Dream Interpretation
Chakra Healing
Career Reading
Angel Reading
I Ching
Life-long Divination
Zen Card Reading
About the Psychics
There are many psychics on Oranum.com available 24/7. All of them speak English, but quite a few have a second or third language they can communicate in. You will find psychics from all over the world.
There is a screening process to join the Oranum psychics team, but it is minimal. Oranum will set up an interview with the psychic, but from what we understand they don't assess the advisors ability. They will go through technical aspects with the potential advisor, but also see how the advisor speaks and behaves in front of a webcam. Oranum does however check the psychics from time to time. The quality control team may randomly follow a psychic's free live sessions and look for any misbehaviours or unethical methods. If a psychic has a low star rating from customers, Oranum reviews that feedback and will likely decide to remove the psychic from the network.
How to find the best psychic on Oranum
Finding a good psychic on Oranum might take some time. You see, there are many good psychic advisors out there, but they are hard to filter out. Let us explain more.
As you visit the home page, you will be presented with images of different psychic advisor that are currently online and ready for a live session. You will see a search box at the top of the page to enter a text of your choice. The funny thing is that you can only search by the name of the psychic advisor. Quite limited, but if you know someone's user name it is useful. What is good though, is that you can actually search by divination practice. The site will sort the people who have that certain specialty you are looking for. But really, besides that…you just have to click on each psychic advisor's image to find out more.
With Oranum.com everything is webcam based, so when you click on an advisor's image, a webcam session will start. Scrolling down on that same page you will be able to see an "about" section. Also, at the upper left side of the streaming window you will be presented with a selection of icons. If you click on the information icon, you will be able to read the psychic's bio, but also see how many customers have rated the advisor. A star rating is also visible ranging from 1 to 5. That is probably the most helpful info you will get in terms of feedback from customers.
A good thing with Oranum, is that everyone that enters the site can see the advisors live for a few minutes. If you sign up for an account, you will also be able to interact more with them. The psychic advisor will certainly exchange a few words with you. Having hat brief interaction with the advisor will help you see if it is someone you would like to consult in private.
Contacting the Psychics
Oranum's main focus is webcam and chat readings, but you can also communicate through private messages. However, the webcam chat is what really makes Oranum stand out.
To get hold of a psychic advisor, you can easily just type in something in the chat box while you are seeing him live. The psychic advisor will then talk or chat, so be ready to have the speakers of your computer on. If you are interested in a private session, then there is a button to click, which will send you to private mode with the advisor. Here you will talk privately one-on-one. You will see the psychic live, and if you want, you can also join in with your webcam.
Customer Support
You can reach the costumer support by email, or contacting the online chat support. For billing questions they have a special phone number.
Website Features
The design of the website was updated sometime in 2016. Because Oranum is a psychic network that specializes in webcam interaction, it's design to immediately be able to access a psychic advisor. It is a clean. Except from the search filters that are not so good, it is a clean and effective site. There is a blog section with articles and weekly horoscopes as well.
Customer Offers
This is the part you have probably been waiting for. Oranum.com offers every new customer a generous deal. The current deal is that any new member will get 9.99 in free credits. Oranum uses credits to ensure you do not spend more than what you have bought in credits. Besides from that offer, everyone will also get to chat for free for a few minutes.
Oranum Complaints
Oranum review complaints from any unsatisfied customer. They have a support team that can be accessed through a live chat, or by sending an email.
We have read some Oranum complaints from real people, but they are from 2013 to 2015. You will see other websites with Oranum reviews, but often they are fake reviews as they just make up stories. The complaints we have seen are mostly about the quality of the reading and of the quality of the support. We know that the whole website was remodelled in 2016, so we are not quite sure if there has been an improvement to address the complaints from the past.
Summary – Oranum Psychics Review
What we like about Oranum.com is the chat interface and live sessions. You can chat with one of their advisors almost instantly. The profile pages do lack information that is vital for the customer in order to compare and select the right advisor. Other psychic networks have way better profile pages than what we see on Oranum. Pricing is good as you will be able to find many advisors charging the low 0.99 credit per minute fee. Finding a good psychic, is however a little bit tricky because you can not filter them, and there are no instant visible ratings.
We would still recommend Oranum.com because they have completely free psychic readings and free credits. If you are looking for just a fun experience, it is well worth spending some time with the Oranum psychics. If the network could improve on certain things, it would be one of the best psychic networks out there.
Pros
Free chat sessions

Free credits to new users

Awesome webcam software

Credits instead of money to control your spending

Mobile app available
Cons
Lack of filtering option

The bio section of the psychics is lacking

Hard to filter out psychics with high star ratings

No phone readings