To give a fair Psychic Access review, we have taken the time to look through the website while also having in mind what other psychic networks offer. We look at any Psychic Access complaints as well as the design of the website, the amount psychics, and some other things that will interest you before consulting a Psychic Access psychic for a real live session. We aim to improve any of our psychic network reviews and revise them from time to time.
PsychicAccess.com Review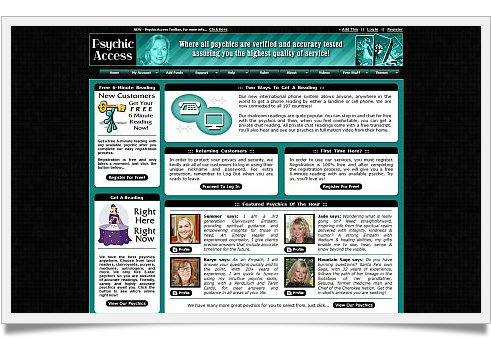 >> Get 6 FREE Minutes <<
About Psychic Access
Psychic Access was created by Doug Christman. This privately held company was established in early 2005, and it is operates from Las Vegas. It is a small psychic network, but still going strong.
Psychic Services
Even if it is a small psychic network, expect to find many fields of divination. A few examples may be:
Angel Reading
Tarot Reading
Numerology
Chakra Work
Energy Work
Lenormand Reading
Spiritual Coaching
About the Psychics
There are not that many psychics available on Psychic Access. You should expect around 60 psychics on the network with all having different schedules of availability. Don't expect to find a psychic any time of the day, you would be best off if you can schedule an appointment ahead of time. The majority of psychics seem to be based in the United States with English being the language to expect for a consultation. However, you may find a few speaking other languages.
The screening process to join the small workforce is strict comparing to other networks. To be part of the network, there several requirements to be met, which includes:
You will have to speak and write fluently English. They do accept psychics from other countries but the list consists of only 21 countries in total.
Have a minimum of five years of professional experience, which means the advisor must show proof of this. References will be checked.
Minimum of 21 years of age, and submit documentation to be verified.
Have a positive attitude and also know how to deliver bad news to customer in the best possible way.
Seems like Psychic Access enforces a more serious screening process than many of the other psychic networks we have seen.

How to find the best psychic on Psychic Access
To find a good Psychic Access psychic will not so hard. Even though you will only be able to select among sixty psychics, they all went through a hiring process that is more strict than other psychic networks.
All psychics charge between $2.99 and $7.99, which is a good pricing range for an expert psychic. It is also lower than some of the other top rated psychic networks.
Looking at the Psychic Access's homepage, there is a "View Our Psychics" near the middle of the page. If you hit the button you will see a new page, and on the left side of the website you are able to select the psychic advisors by rating, price, and name. You can only select one of the mentioned criteria, you would still need to click on the type of reading you want. Let's say you select price as your criteria, and then hit the "All Psychics" button, you will then be shown a list of psychics charging from the lowest to the highest rate per minute.
Once you have done your search, you can just look through each psychic's bio. Every single advisor will have a very informative bio where you can read about their qualifications, experience, and personal information. Each psychic does also have a short video where they introduce themselves. Near the bottom of each psychic's bio, you will be able to read reviews of previous customers. The customer comments section will be very helpful in your selection process because you will get an idea of how well the advisor performed during other readings.
Contacting the Psychics
To contact the psychics at Psychic Access to get a reading, this can be done either by phone or video chat.
Customer Support
You can only reach the costumer support team by filling out a form. They state they will do the best to reply within 24 hours.
Website Features
The design of the website has not been updated since late 2007. They do have a daily blog though that is updated frequently. They also claim to have a weekly radio show, but it seems they stopped airing in late 2015. You have a few search functions to search from a psychic, but since the work force is small, you may not end up using that function. Except from that, there is not much say. As customer you often just want to have a psychic reading session, and that is what Psychic Access provides.
Customer Offers
Psychic Access has a very unique offer for any new customer. They will give you a total of six free minutes when you create an account. After that you can speak to anyone you want and use up the minutes. If you combine the offer with a few minutes of paid reading you will get a good deal to speak to an experience psychic.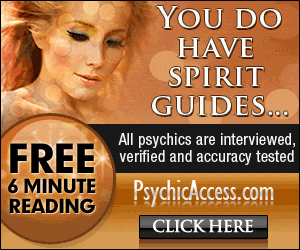 Psychic Access Complaints
Like any other psychic network, or business for that matter, there will be complaints. Psychic Access complaints range from unsatisfied readings to unpleasant customer support replies. A few people have reported that their account was shut down for no reason. However, in those cases, the customer was trying to create an additional account under same household in order to claim more free minutes. This is clearly not permitted, which is mentioned during the creation of a new account. Some people think Psychic Access is a scam because a prediction did not go through, which is understandable, but there are really lots of satisfied customers.
Summary – Psychic Access Review
PsychicAccess.com is small psychic network, but they have been in business for a very long time. They hand-pick the psychics one by one, which is probably why the amount of advisors available are only around 60. This is in a way comforting because they seem to care about quality than quantity. The six free minutes each customer gets after the sign up process is really a nice bonus.
While the old design of the website may put people off, it seems like a very well kept network with quality psychic readers. If you are looking for a psychic reading session with trusted psychics, Psychic Access is a place to look in to. Use the free minutes in connection with a few minutes of paid reading, and you will probably satisfied.
Pros
6 free minutes for every new customer

Experienced psychics

Paypal payments accepted

No email readings
Cons
No phone or live support team

Old website design

No offers for returning customers